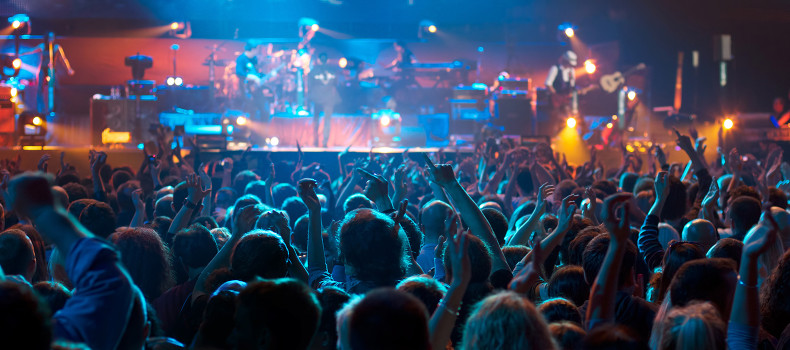 A New Sound for a New Generation
This article originally appeared on the ReformJudaism.org Blog, and is published here with permission.

There was a time when the term Jewish Rock might have been considered an oxymoron.
In my own NFTY and camp days in the mid-to-late 90s, most of the music in services and song sessions reflected the Movement's folk roots and didn't sound much like what we listened to on the radio or our Sony Discmen. Sure, we all loved Debbie Friedman's prayer settings and Bob Dylan's protest songs, but we didn't have any Jewish music comparable to Green Day or even Dave Matthews. Unlike the generations before us, rabbis and cantors playing guitar and singing camp songs on the bimah were common occurrences. But just like our predecessors, we sought a new sound around which to build a Jewish youth community.
The music that emerged at the end of the 20th century and beginning of the 21st began to shrink the gap between Jewish and rock. Song sessions got louder and rowdier as new artists such as Rick Recht, Dan Nichols, Noam Katz and Josh Nelson introduced songs that combined traditional texts with alternative beats. The meteoric rise of online platforms and the emergence of social media made documenting and sharing music easier than ever, catapulting certain tunes into an enduring NFTY pantheon that transcended regional affiliations. NFTY events and camp sessions now featured full-on rock shows, complete with blaring amps, flashing lights, fog machines, and merchandise.
As a songleader and youth worker during these frenzied days of transition, I often found myself in awe of the intensity and energy produced by NFTYites singing. Where but the NFTY community could one witness Jewish teens dancing in a mosh-pit to Torah text and screaming words like "Baruch atah, Adonai, Eloheinu Melech haolam, shenatan lanu hizdamnut lâ taken et haolam (Praised are you, God, who gives us the opportunity to repair the world) at the top of their lungs? The volume was sometimes overwhelming, but the sheer joy exuding from these gatherings always made me smile.
This era brought another important innovation to NFTY: the musical mash-up. With these creations, modern secular music found a new place in song sessions and worship; hearing the words of Hinei Mah Tov layered on top of Dave Matthews popular tune Everyday encouraged teens to find themes connecting the music in their earbuds with the words of the prayerbook. Mash-ups became outlets for creativity, expressions of personal or group identity, and familiar reference points for new members.
Recognizing the need to catalog the music being produced by many new artists, Transcontinental Music (now URJ Books and Music) resurrected the periodic NFTY album. Produced to coincide with NFTY Convention, the Ruach series showcased a range of tracks reflecting the "new" Jewish sound. Those of us leading and teaching this new music found a wealth of new resources and opportunities for training. Most prominently, Hava Nashira the songleading institute created by Debbie Friedman, Cantor Jeff Klepper and friends at URJ's Olin-Sang-Ruby Union Institute mushroomed from a small yearly gathering to become the address for professional development, networking and repertoire-sharing, attracting hundreds of people each year. By the mid-2000s, all URJ Camp and Israel songleaders were required to participate, ensuring an infusion of new music into those communities every summer.
Now I see a new generation picking up their guitars (and drums) to create the soundtrack of NFTY's future. I can't predict which of their melodies will become as popular as Dan's L'takein (Na Na Song) or Josh's Yhi Ratzon, but I know that hearing NFTYites singing together will always bring a smile to my face.
Caryn Roman is pursuing a master's degree in Jewish Education at Hebrew Union College-Jewish Institute of Religion in New York and coordinates the URJ's newly launched Bonim Kehilah fellowship for young adults. She proudly served as a songleader at URJ Kutz Camp, in NFTY's Michigan Region, and at congregations around the US.