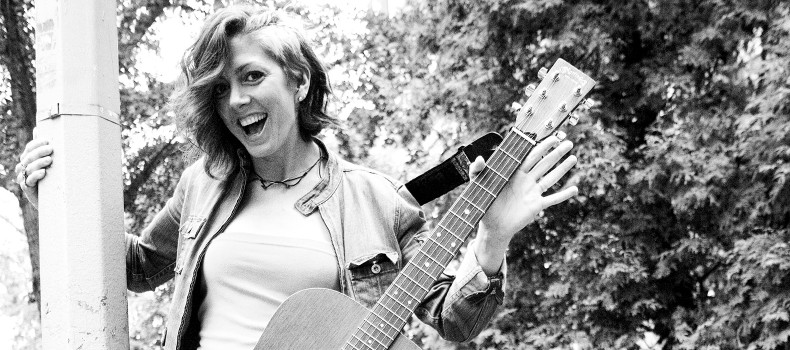 Q and A with Naomi Less
Naomi Less cool Jewish rock sound has brought her to camps and congregations throughout the country. She combines soulful melodies, social justice, and a love of music – and shows us that chicks really do rock. We recently interviewed Naomi Less for a mini Q and A!
Q: How would you describe your music? What would you tell somebody who has never heard your sound before?
Naomi: Original melodic pop tunes with a soulful edge. From edgy rock to heart-opening ballads.
Q: What makes you unique as a recording artist? What inspires and motivates you?
Naomi: I love to collaborate. My favorite work is creating music together with other artists. Â I've had a blast performing and recording with friends like Mikey Pauker, Beth Schafer, Matt Check (who rocks the bluegrass scene – a new love of mine), Jay Rapaport, Chana Rothman, Sarah Aroeste, Rick Recht, Saul and Elana Jagoda Kaye and all of the ritual musicians I'm privileged to work with through my community Storahtelling Lab/Shul. Â I'm inspired by them all – and I bring my own unique sound to the work as well.
I look to the women in the field who are doing incredible work – and am so inspired and grateful that we are building each other up and not competing for some "female quota" that doesn't exist.
My musical inspirations – I do love P!NK and the Indigo Girls – how powerful they both are in different ways.
Q: You've been touring, teaching, and evolving so much as an artist and educator.  What's next for you?
Naomi: New projects – I've started work on my third album – two songs in! This one will be a more mature sound, delving deep into expressions of prayer that tap into our existential issues, world issues and will bring messages of hope and strength to those struggling.  I'm working with my incredible producer and writing partner, Glenn Grossman, from A Studio Works in Brooklyn. It's such a gift to be able to work with someone you truly trust and that has such a diverse production ear.
Q: How have you been impacted by JRR as a Jewish musician?
Naomi: Early on, I was so appreciative of the JRR concept – yes, yes, yes! We need a dedicated space to expose people to the breadth and depth of Jewish musical expression. Â I have loved listening to friends and musicians I don't yet know – inspired by each one's take on Judaism. Â It propels me to keep creating. And of course, I'm so grateful to the team for sharing my music with the world. Â I hope you like it!