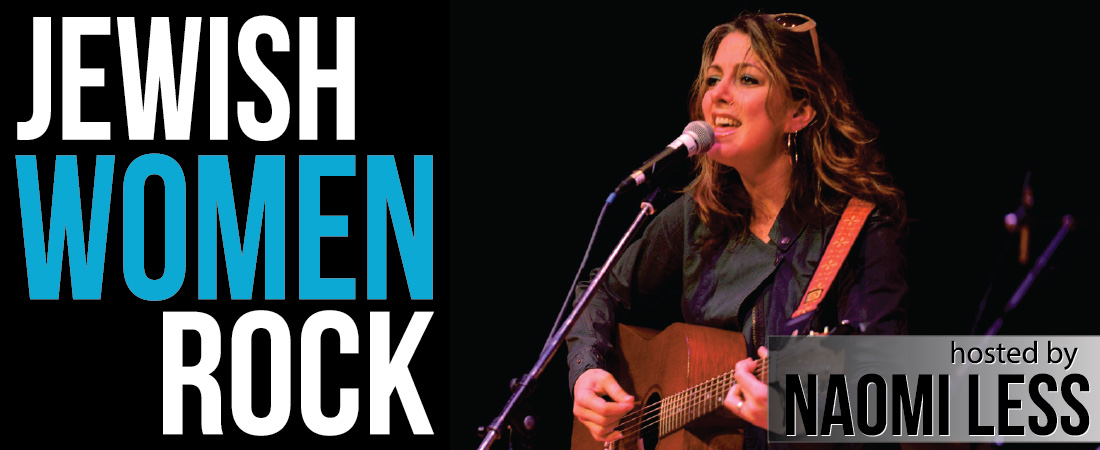 Jewish Women Rock features the best, and most influential female voices in contemporary Jewish music, with host Naomi Less.
About the Host
Naomi Less writes edgy, pop-rock riffs, punchy lyrics, soaring melodies and uplifting messages that move all ages and genders. Hailed by PresenTense Magazine as the "Ultimate Jewish Chick Rocker", Naomi combines her faith with a modern sound, motivating audiences to work for change in the world. Dedicated to breaking gender stereotypes and producing music with positive non-sexualized lyrics, Naomi's strong character and unique voice amplify a powerful message to young women: be who you are, no apologies. She founded Jewish Chicks Rock and Jewish Kids Rock, a project to empower more young, kids to pick up instruments and express themselves through rock music. Naomi tours, trains and delivers inspiring, custom-made rock-shops around the world. Naomi has been a songwriter, world-wide Jewish ritual musician, songleader, and rockband leader for 14 years. Naomi has released two solo CDs, "The Real Me" and in 2013 she released her latest CD "Seven" both of these are available on Itunes and CD Baby.
Showtimes: Mondays at 8 PM Eastern, 7 PM Central, and Wednesdays at 12 PM Eastern, 11 AM Central
Playlists
Episode 1, Voices of Change
Episode 2, Women Who Rock the Worship World
Episode 3, Boundary Breakers
Episode 4, Songleader Boot Camp Listeners' Choice
Episode 5, Aviva Chernick, Revelation, and Shavuot
Episode 6, Jewish Chicks Rock at Camp Louise
Episode 7, Pop Artists with Jewish Backgrounds
Episode 8, Beth Schafer and Stacy Beyer
Episode 9, New Releases and Emerging Music
Episode 10, Debbie Friedman and the Emergence of the Jewish Healing Service featuring Rabbi Michael Strassfeld
Episode 11, Jewish Healing Music, Part 2 with Cantor Lisa Levine
Episode 12: Jewish Women Rock Your 2018 Camp Music
Episode 13, The New, The Old, and The Ground Breaking!
Episode 14, 5779
Episode 15, Songs That Make You Feel Good
Episode 16, Light
Episode 17, Tu Bshvat
Episode 18: Best of SLBC 2019
Episode 19: Elevate!
Episode 20: Israeli Artist Showcase
Episode 21: Your Voice Your Choice & Jewish Chicks Rock Preview
Episode 22: NewCAJE 2019 Preview
Episode 23: High Holidays
Episode 24: 2019 Biennial Blast!
Episode 25: Light
Check out the Showtimes page for details and showtimes for all of JRR's celebrity-hosted shows!