About
The Jewish Rock Radio JRR Gift of Music national initiative mass distributes free Jewish music directly to the fingertips, ears, and hearts of thousands of young Jews. The purpose of this initiative is to bring Jewish music to thousands of teens and young adults, to amplify their Jewish experiences, reconnect them to important Jewish experiences in their lives, and inspire them to continue life‐long Jewish journeys. The JRR Gift of Music will distribute cool Jewish rock music to thousands of teens and young adults across the country. Similar to the PJ Library international distribution model, JRR will facilitate the distribution of free digital music downloads to young adults every three months for a two-year period.
The JRR Gift of Music leverages Jewish music to strengthen Jewish identity and connection at precisely the time this age demographic needs it the most – during the most vulnerable time in their Jewish lives. Studies have shown that experiences like camp, youth group, and trips to Israel have a lifelong impact on an individual living Jewishly and ALL of these experiences are soaked in Jewish music. Imagine every teen and young adult leaving Jewish summer camp, youth group or a Birthright Israel trip with the soundtrack to their Jewish lives – owning a library of the Jewish music that can trigger their souls on a regular basis, reminding them where they came from, continuing to inspire them over and over again. This is a game-changer. 
Jewish Rock Radio will share digital Jewish music (not physical CDs) in partnership with local Jewish organizations that work with teens and young adults. Jewish teens and young adults who receive the JRR Gift of Music are given Jewish rock greatest hits compilations every three months from the organizations they participate in (i.e. Hillel, BBYO, etc.). Each distribution is also paired with Jewish Engagement Touches – information about upcoming activities and ways to get involved in local Jewish life, giving Jewish teens and young adults ongoing ways to connect and engage in person with their peers.
The JRR Gift of Music has already received major excitement and support, as we prepare to launch in Memphis, St. Louis, and a pilot with 12 campuses through Hillel Birthright.
"Jewish Community Partners is thrilled to be a part of this national initiative. It's so exciting to be one of the first cities to launch the JRR Gift of Music." – Laura Linder, President/CEO of Jewish Community Partners, Memphis, TN.
How The JRR Gift of Music works:
Step 1: Gift Preparation
The JRR Gift of Music program director provides a digital form to the young adult organization representative that can be filled out in approximately 5-10 minutes. The representative is asked to enter:
His/her name and email address.
A personal email message. The form will include an editable template message.
Upcoming engagement opportunities in their organization and wider Jewish community.
A spreadsheet with the recipient names and email addresses.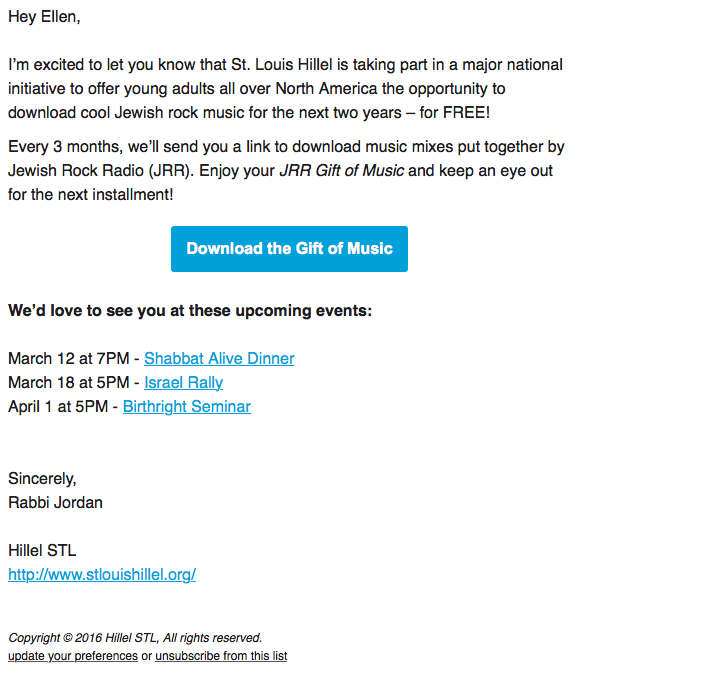 Step 2: Sending the Gift
Jewish Rock Radio sends a personalized email from the organization representative to young adult recipients. The email comes from the email address of the organization representative.
The recipient is prompted to visit the JRR Gift of Music website that is customized for the organization with logos and other branding images, so the recipient feels a sense of familiarity.
When recipients visit the JRR Gift of Music website, music will automatically download to their computers. They can then transfer the music to their various devices. The website also recognizes mobile devices.
The JRR Gift of Music website includes a "Share with a Friend" feature, a viral outreach tool that empowers participants to serve as ambassadors for their organizations by sharing the JRR Gift of Music with friends, thereby increasing the reach of the organization and impact of the initiative.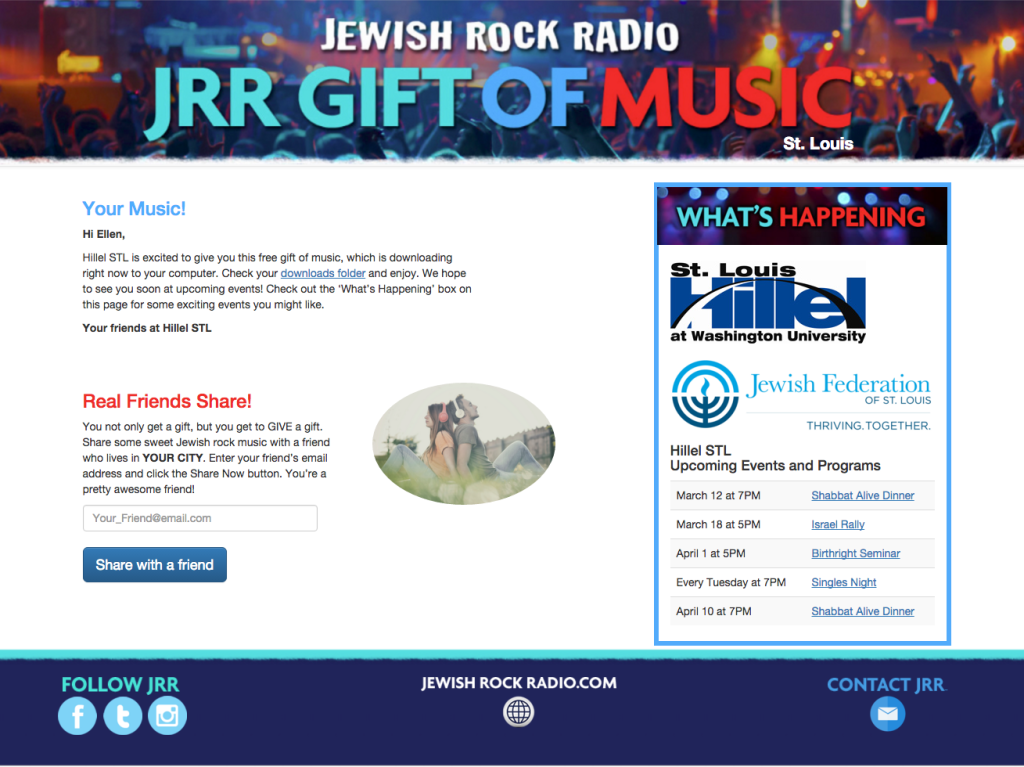 Jewish Rock Radio Expertise
The JRR Gift of Music has been met with broad excitement, attracting a diverse group of individual philanthropists and institutional funders.  Music is easy to distribute on mass scale, at a low cost, with the ability to deliver significant impact. The cost of maintaining the program in subsequent years drops significantly – as scale increases, incremental costs decrease. 
Bring the JRR Gift of Music to your community
Are you interested in bringing the JRR Gift of Music to your community? Contact us to find out how you can be a part of this major national movement!